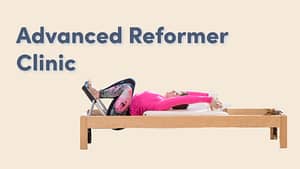 Drop into a systematic, progressive clinic that will help you break down the advanced syllabus with the Pilates Reformer and approach it from a place of capability, rather than overwhelm.
Program includes:
A Weekly, 60 min, Professional Level Advanced Reformer  Class
Access To The Replay Library Of All Classes In the Series for 8 Weeks
Curated Class Content That Moves You Through A Full Syllabus of reformer progressions that will help you execute the advanced syllabus with more ease and confidence.
A Written Class Plan Per Each Session
A Movement Session For YOU (that you can also "borrow" for your clients.)
Access To Online Community Group For Discussion & Connection
Access To JZ Studio Pop Up Library
Classes meet live on Tuesdays at 10am CT  – Live attendance is not mandatory.  Replay will uploaded to private group on the same day that class occurs.